A guide to Defamation Law in the UAE concerning social media networks
The internet is rapidly becoming the main focus in every aspect of our life. We are facing a digital era in which businesses, universities, shopping, and even exercising are all operating on the web. But what happens when some of the things we say are stepping way too far? The defamation law in the UAE has the answer to this question. 
In this article, you will learn everything about defamation law in the UAE and its impact on social media networks. You will have specific details about what the penal code states, and how to prevent any misconduct from now on. Let us take a look: 
What does defamation mean? 

What are the two types of defamation?

How does the internet play a part in defamation? 

What are the penalties for defamation? 

When can I file a complaint of defamation? 

How can I defend myself from a defamation accusation? 

What are the Social Media regulations in the UAE?

How does this affect the community?

Why should I ask for legal assistance? 
1. What does defamation mean?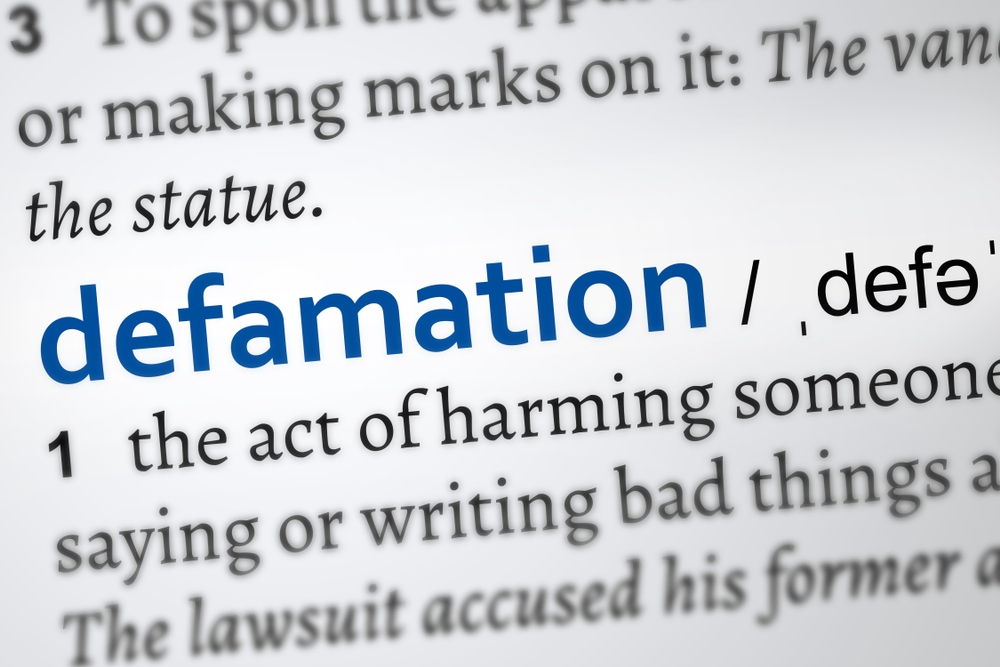 We can often come across people claiming that someone else is defaming them, but what does defamation mean in terms of the law? According to the United Arab Emirates courts, defamation is an act that is causing hatred, harm, humiliation, or punishment to a person from others. 
In this case, the court determines that pure criticism can be taken as defamatory. For example, if as a consequence, it affects the honor of a company or individual. Because it exceeds the normal limits of criticism. 
However, this does not mean that a person cannot give their personal opinion about a service. On the contrary, UAE's Penal Code offers us an exclusion of defamatory crime if it is reported as an act of good faith to the administrative authorities. 
This means that you can report the misconduct of any person or company without it being judged as defamatory. As an example, instead of leaving an aggressive comment on social media, approach the DED about a customer service issue.
2. What are the two types of defamation? 
According to the Penal Code in the UAE, defamation can be categorized into two different types. It is very common for people to confuse the terms slander and defamation. In both cases, it is communication that falsely degrades someone's character. At the same time, in law, they both belong to the same category of crimes against honor.
2.1 Slander
Defamatory statements that are made verbally or orally are what we know as slander. Stating dishonest facts by making them appear true, is very often motivated by anger or hatred. 
2.2 Libel
In this case, they make the declaration in written form and spread it throughout the media. But it is not only about written words. Including cartoons, photographs, banners, and even statues. Digital statements fall into the category of written libelous acts.  
3. How does the internet play a part in defamation? 
In the United Arab Emirates, there is a specific law regarding crimes over the internet. In the case of defamation, it is an offense to another person's honor. Nowadays we are facing a technological revolution within legal aspects. There is no distinction for the consequences whether the fact happened in the victim's presence or the internet. 
To some degree, people have been taking advantage of the anonymity, or remoteness of the internet, to state highly problematic opinions. However, according to the Defamation Law in the UAE, the responsibility for acts on the internet must be the same as in the real world. 
As we mentioned earlier, a digital statement is considered a libelous act; this includes Facebook comments or posts, WhatsApp conversations, Instagram comments or posts, and a long list of social media networks. 
People overreacting in a post comment section can lead to others' reputations being ruined. Therefore, the authors are subject to the criminal consequences of their behavior. Slander, insults, and defamation through social media are entitled to criminal liability under the Cybercrime Law in the UAE.
4. What are the penalties for defamation? 
Firstly, during an ongoing investigation, all electronic devices, such as laptops, phones, and work devices are part of that investigation. All devices that are part of the dissemination of the statement will be seized.  
Following the Cybercrime Law in the UAE and the UAE'S Penal Code, punishments for defamation range from fines, to jail time, and even deportation of foreigners. The fine can be up to AED 20,000, while jail time can go up to two years. 
In some cases, depending on the severity of the crime, websites can face a temporary or even permanent deletion of information. If you are looking to solve a case of defamation, learn more about us, Connect Legal, and how we can provide you with the help you need. 
UAE has a zero-tolerance policy regarding defamation via social networks. Expatiates will face deportation for any derogatory Islamophobic post or comment on social media. Sometimes, employers will ask for the employee's visa cancellation without them knowing. 
4.1 Aggravating factors
If the statement is directing a public officer, that increases the severity of the punishment. If the insult occurs during the performance of public duty, this is also an aggravating circumstance. 
When defamation occurs through publication in newspapers, magazines, or some other printed medium, it is an aggravating circumstance.
If the insults or defamation is directed towards relatives and puts the family honor at risk, they will have a more severe punishment. The same goes for religious beliefs. Both of these situations are separate and more severe crimes. 
4.2 Partners in crime
Let us assume that the perpetrator uses the workspace, or the work network, to make a defamatory statement. In this case, the legal process may involve the employer. Since they are considered a sponsor, they will have to face some consequences.
On the other hand, the Penal Code in the UAE states that if the crime occurs on the part of the employer, the complaint is directed towards the company, and also towards the employee's manager, for allowing illegal actions. 
Cybercrime Law in the UAE also includes under the responsibility for the crime those operators and owners of websites. In this sense, the administrators of the group play a part, since they are aware of providing and storing illegal content. Any operator who fails to remove and block illegal content will face punishment. 
5. When can I file a complaint of defamation?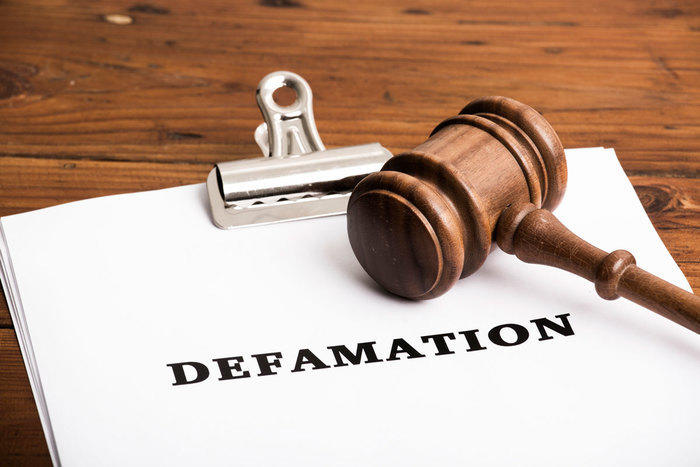 The procedural Defamation Law in the UAE establishes that a person must file the complaint within a maximum period of 3 months. Starting from the day the complaint acknowledged the crime. 
Following  the UAE'S Penal Code and Cybercrime Law, three elements must be present in a defamation crime to prosecute a lawsuit:
A false statement or defamatory accusation.

There are witnesses to the statement, regardless of whether it was verbal or written.

This statement has caused harm and damage to any extent. 
To follow this complaint, you must count on an attorney who will assist you in each step. Here, in Connect Legal, we have a team of lawyers ready to help you with your case. There are different instances There are several instances to which we can go, contact us to guide you towards the best option. 
5.1 Proof
In defamation cases, the entire burden of proof rests with the plaintiff. It is mandatory to submit proof of the allegations, regardless of whether it is a complaint or a defense. Within the evidence, it is necessary to include at least one of each of the aspects required to make a complaint. 
On the other hand, we need to take into consideration that if someone is accused of defamation, the proof of the truth about the fact is not always going to work as an excuse. 
Even if you prove that the statements are true, you can still be charged with defamation, as it may unnecessarily affect the honor of another person.
6. How can I defend myself from a defamation accusation? 
Convictions tend to be easy in defamation cases, that is why it is critical to have the best representative law firm. 
As a result of the disagreement, some people may find themselves in situations where they lose their temper and insult their opponent. That person can then file a complaint about slander, even if they were in the wrong to begging with. 
We highly recommend seeking legal advice. In these cases, you need assistance from one of our criminal defense lawyers, since you could be facing jail time. By registering on our web, you can set up a meeting to start working on your case. 
In contrast, there may be cases where an accusation has been false. After the court has a verdict in favor of the defendant's innocence, this person can file a complaint about defamation and claim damages for mental agony, loss of businesses opportunity, etc. 
7. What are the Social Media regulations in the UAE? 
Firstly, people should make sure they understand the dangers associated with making or posting any comments. Some people may interpret comments as defamatory or insulting. The Penal Code in the UAE is very specific about what could bring legal consequences. 
Although the law does not necessarily restrict anyone from making some comments, people should understand that anything that is harmful to a third party can and will be punished. Comments against religion, relating to private life, or public officials, tend to attract higher penalties.
Companies must modify and update Internet use policies to specifically specify social networks usage. They must also provide guidance and training to their employees on what is responsible and appropriate to post and comment for the UAE.
Owners and administrators of social media groups or websites must implement effective monitoring. This is to guarantee that they will remove any type of illegal content immediately upon discovery. 
8. How does this affect the community? 
Undoubtedly, it can be seen how the United Arab Emirates is especially delicate with all actions that publicly intend to harm a person's honor. The Defamation Law in the UAE ensures that the community treats each other with respect. 
At the same time, the Cybercrime Law in the UAE makes sure that Internet anonymity is not a way to destroy the image of a person or business. On the contrary, this focuses the media on giving us all the good aspects of life.  
Furthermore, we should always remember that there are legal ways to file a complaint about a custom service. In that way, we will also be contributing to making the UAE better for everyone, without starting internet riots. 
Additionally, some of the cases regarding defamation due to verbal abuse may be related to Family Law as well. In Connect Legal we have adequate preparation to help you face any legal problem of that category.
9. Why should I ask for legal assistance? 
In conclusion, we can understand that managing through social networks can involve risk if we do not take the appropriate precautions. The UAE'S Penal Code is very clear, but there is always a chance of slipping. 
Connect Legal is the best place to look for legal assistance. We can help you with defamation cases, family law, and even understanding employment issues in the UAE. This platform is a great place for lawyers and clients to meet. You can also create a professional profile; this will give you a lot of client opportunities.  
Would you like to learn more? We will tell you all you want to know about the defamation law in UAE and its impact on social media networks. You can reach us by sending an email to contact@connectlegal.ae. We will quickly respond to all of your inquiries.
This is your opportunity to join our agency by applying for one of our open positions at thetalentpoint.com. Do not miss out, send an email with your CV or resume to contact@thetalentpoint.com. We will not store any of the information you send. 
25/Mar/2023
An easy guide to Typing services in Dubai in 2023
Topmost Typing Center Dubai UAE for documentation services The Dubai government authorizes a typi...
25/Mar/2023
Does an Etisalat sim renewal have any effects for your visa cancellation: Know more
Sim is an acronym for system identification module. It is a vital lead in communications in every...
25/Mar/2023
An overview of Employment Lawyers in Dubai and the UAE
Employment lawyers offer a wide range of services to both employees and businesses. There is a wi...
25/Mar/2023
Dubai Residents can now e-scooter license online in Dubai for free; RTA releases safety manual
All you need to know about how to apply for e scooter license Dubai online for free Dubai...