When it comes to running a business, a company, or a corporation, you will want to count on legal advice. However, not all lawyers will deal with the same matters. Every business is going to need business lawyers and corporate lawyers in the UAE once in a while. Therefore, it is fundamental to understand what these two can help you with, and what are their differences.
In this article, you will learn everything there is to know about business lawyers, what they can help you with, and the differences between them and corporate lawyers in the UAE. This will help you make the right decision regarding your company's success. Let us take a look:
1. What is a business lawyer?
2. When should I consult a business lawyer?
3. How can you distinguish between Corporate Law and Business Law?
4. What are the main differences between corporate lawyers and business lawyers?
5. What do you have to know about the latest amendments to UAE business law?
6. How can we help you find the best lawyer for your company?
1. What is a business lawyer?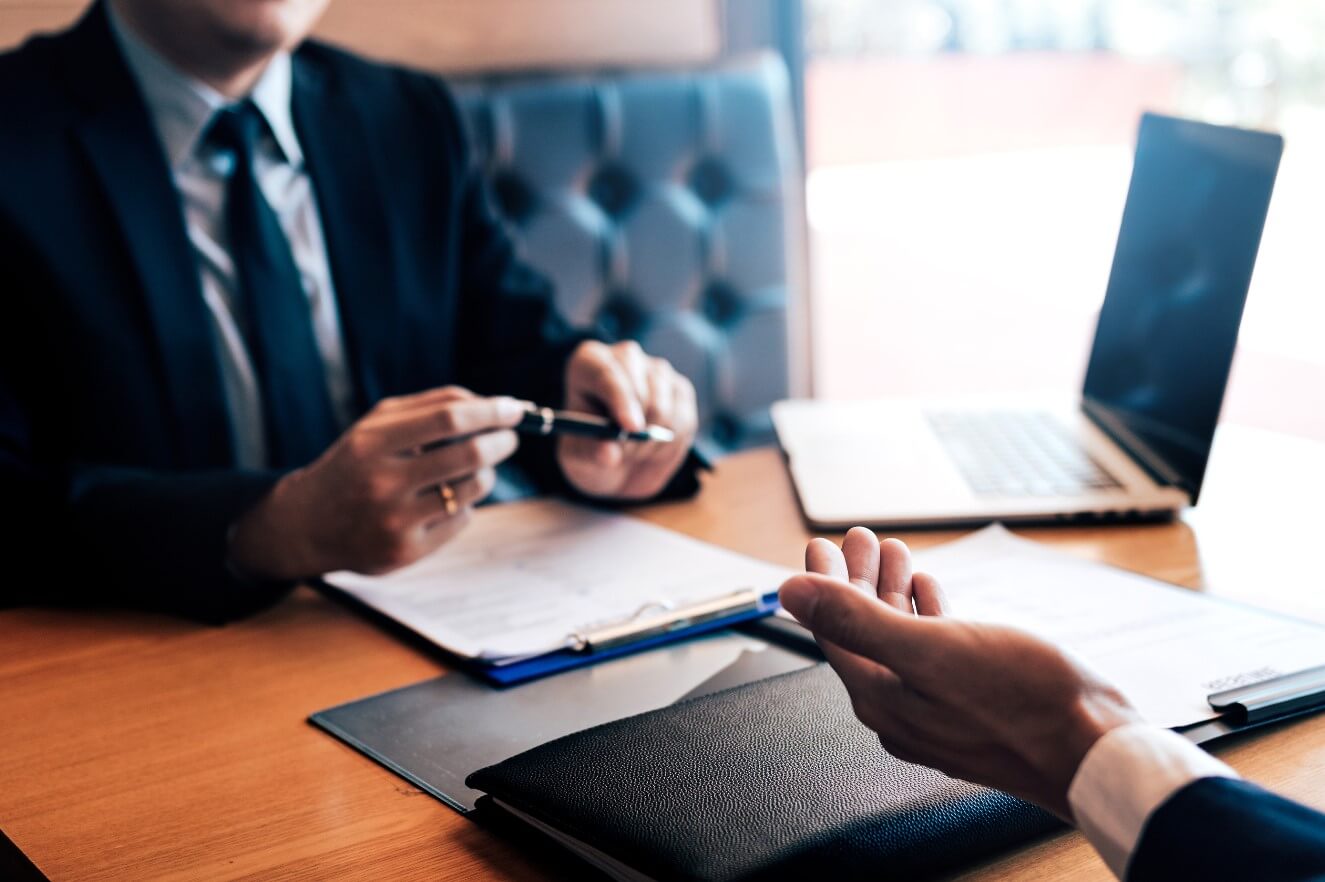 Employing business lawyers is critical to ensuring that your company's legalities are completely handled. A lawyer who knows business law should be a tangible part of your business, from setting up your firm under the right categorization to running it efficiently and successfully.
1.1 What exactly does a business lawyer do?
Business lawyers advise clients on applicable legislation and practice guidelines and represent them in the event of a dispute. Expert business lawyers can advise on regulatory concerns and build processes to monitor and limit risk for new and existing organizations alike.
1.2 When should I consult a lawyer?
Consult a lawyer if you do not comprehend the terms or how to draft a contract. Hire a lawyer if you require a sophisticated company structure (many businesses), have complex monetary issues, need to apply for a property, or become implicated in litigation.
1.3 What are the most important characteristics of a business lawyer?
Not all business lawyers, however, are made equal. How does one know where to look? There are a few characteristics to seek when looking for business lawyers. Here you will learn the qualities of a fantastic business lawyer.
1.3.1 Professionalism
When it comes to selecting qualified business lawyers, experience is essential. Make sure you hire someone who has a lot of expertise in your industry.
1.3.2 Overall reliability
This is self-evident, but any lawyer practicing company law in the UAE should be trustworthy and reliable. After all, you are entrusting the legality of your business to them.
1.3.3 The price
You want to be certain that the lawyer you pick is within your budget and that hiring them will not break the bank.
1.3.4 Recommendations
A positive suggestion is the best kind of advertisement.  Find out which lawyer is working in certain area firms by asking around. Good business lawyers are incredibly essential, therefore receiving a reference from someone who has firsthand knowledge is critical.
1.3.5 Chemistry
Do you have a good relationship with your company lawyer? You will be spending a lot of time with them to ensure that your business runs well, so you must get along well with them. Make this a crucial consideration in your selection of the best legal representation.
2. When should I consult a business lawyer?
Many people ask if it is necessary to engage a lawyer when planning to establish a business. The answer is absolutely yes. You must count on both business lawyers and corporate lawyers in UAE when you are establishing a business. This will guarantee you have all the legal aspects covered so you can get a fresh and bright start.
A lawyer can assist you in ensuring that your business starts and runs in under federal, state, and local regulations. Reduce the risk: running a company exposes you to danger, but business lawyers can assist you in developing a set of processes to minimize your risk.
2.1 Why do I require the services of a business lawyer?
There are numerous reasons why a company needs legal services. Firstly, business lawyers can assist you to navigate complicated regulations and develop and evaluate contractual arrangements to keep your company running successfully.
Furthermore, if things are not going well, they can get you through court.
2.1.1 How do I go about finding a business lawyer?
1. The legal knowledge that is most helpful to you will be determined by the type and aims of your organization.
2. Obtain a recommendation from a reputable source.
3. Do your research on the lawyers that interest you.
4. Make the first consultation.
5. Determine a fee structure.
6. Contrast and compare your options.
7. Choose the one that has the most positive points for you.
3. How can you distinguish between corporate law and business law?
While corporation law concentrates on the legal factors controlling the selling and distribution of commodities, business law encompasses the legal aspects involved in acquisitions, mergers, company creation, and shareholder rights.
Companies want employees who are well-versed in both legislations. Therefore, it is great to know everything about corporate lawyers in Dubai and the law firms in the UAE.
Organizations require both business and corporation law to simplify their operations, although the two may appear to be the same, the two laws are rather distinct. There are several legal services for businesses.
Law is a broad field of study, and pupils contemplating a career in business must be well-versed in all of its facets. Among the most prevalent misunderstandings that law students have is in the area of corporate and business law. Of course, the same happens with the regular population.
3.1 The essential distinction
A key contrast between these two types of regulations is that corporation law will often provide rules and standards for the purchase and sale of various items in the market.
Corporate lawyers in Abu Dhabi do have a tremendous impact on businesses. Many businesses are embroiled in legal conflicts because they have violated one or more aspects of corporate law.
3.1.1 The law of corporations
Corporate law is primarily concerned with an organization's actions, the duties of all its administration, the benefits and liberties of investors, and several concerns that primarily affect company management.
The law regards a corporation as a distinct entity from its owners. A firm has many capabilities, such as establishing contracts, registering a claim, or being sued regarding the acquisition and sale of products. Investors are regarded as proprietors of a company, and their interests are protected by corporate lawyers in Sharjah.
If you intend to establish your business or if you have already constituted and need additional counsel, you may require the services of a corporate lawyer. Corporate lawyers in UAE investigate investor interests, acquisitions, and corporate structure difficulties.
When your business model involves contracts, particularly those involving foreign identities, corporate lawyers in Dubai may assist you in ensuring that both sides are in compliance and that the agreement is legally legitimate.
3.1.2 The business laws
Business law takes a broader view of legal influence on business. It is substantially more common than corporate law. Contract terms, employment law, taxation, and other relevant issues are often addressed by business law in the context of a company's creation.
4. What are the main differences between corporate lawyers and business lawyers?
One of the distinctions between business lawyers and corporate lawyers in Sharjah is that a corporate lawyer is more prone to provide standards for the purchase and sale of things. Additionally, corporate lawyers in Dubai are also familiar with the bureaucratic procedures involved in providing services on the global market.
Corporate lawyers in Abu Dhabi and business lawyers are also important in the early stages of a company. They consider the fundamental legal issues necessary for establishment. In this scenario, the distinction might be determined based on the activities carried out.
Business is primarily concerned with the sale and purchase of products and services, whereas corporate is concerned with an organization's activities such as operations, activities, and legitimacy.
4.1 Corporate law specialties
1. Advice on how to cope with foreign trade-in products.
2. Contract-making business transactions, particularly with overseas clientele.
3. Investor Rights, Acquisitions.
4. Other concerns relating to corporate organization.
4.2 Business law specialties
1. Creating a business strategy for potential investors.
2. Making agreements for collaboration.
3. Contract Reviewing, Partnership Agreements.
4. Looking for a unique name or logo for your company that is not protected by copyright or trademarks.
5. Taking care of financial responsibilities.
6. Employment regulations and dealing with cases involving businesses, either directly or indirectly.
7. Dealing with government agencies that file complaints or conduct investigations into businesses.
8. Lawsuits involving your business.
4.3 Acquisitions and integrations
Both laws play various roles when it comes to mergers and acquisitions, organizational inauguration/development requirements, and investor rights. In a nutshell, corporate lawyers in the UAE draft contracts, and business lawyers examine those contracts.
Along similar lines, business law deals with the essential laws necessary for an organization's foundation, whereas corporation lawyers in Abu Dhabi focus on an organization's activities, operations, and legality.
Similarly, corporate law assists in taking care of a company's behind-the-scenes legal procedures while also avoiding litigation. Furthermore, corporation law enforces regulations while ignoring employee manuals.
Business lawyers ensure that a firm abides by local regulations, whether it is establishing a corporation or dissolving it.
4.4 Employment regulations
Business law is also important in determining how employment law affects a wide variety of business substances. Often, they count on labor lawyers as well.
Employment law is concerned with strategic decisions such as employing and contracting employees for a work position, terminating advocates, and how a company organization should treat its representatives.
A company that does not follow these laws may find itself in court contesting a claim.
5. What do you have to know about the latest amendments to UAE business law?
Many recent improvements have been made to create a flexible business climate in support of the UAE's objective of becoming the region's premier business hub, one that fosters a business-friendly environment.
All corporate lawyers in Sharjah and any other lawyers that deal with employment, businesses, and companies should be up-to-date about the new regulations. Including the UAE Labour Law.
With the most recent reforms in business law, full foreign ownership is now permitted in mainland corporations in specific industries, which was previously only permitted with the designation of either a local person or a company as the local agent.
5.1 Foreign firms' branches
Foreign corporations licensed in the nation can now convert their branches into commercial entities in the UAE.
5.2 Joint stock companies
Investors of a joint-stock corporation now can sue corporations if directors fail to execute their duties and this results in loss or harm.
5.3 LLCs with a single shareholder
Another significant change allows foreign investors to incorporate a single stakeholder LLC firm. Before the modification, this provision was exclusively available to UAE nationals. However, the adjustment is only applicable if the company's activity does not fit within the 'strategic impact list.'
5.4 Foreign ownership is 100 percent
The most significant changes are the introduction of 100 percent foreign ownership confined to industrial and commercial activity. All corporate lawyers in Abu Dhabi must be aware of these changes to be able to assist in the best way possible.
6. How can we help you find the best lawyer for your company?
As you can see, you must be conscious and careful while doing the search for the right lawyer for your business. There are plenty of options and reasons to hire a lawyer, but only you can determine what is best for you.
At Connect Legal, we like helping people with any legal concern they may have. Therefore, from businesses to family law and even a few free advice from professional lawyers to the general public, we have everything you need.
Do you want to find out more about the differences between business lawyers and corporate lawyers? Please call +971 43 316 688 if you have any questions. You may also drop us a mail at contact@connectlegal.ae if you have any queries.
Furthermore, if you are looking for work in the UAE, you may visit thetalentpoint.com. You may register for a range of opportunities on this website. By submitting your application, you will be able to interact with prominent employers. You can also email your resume at contact@thetalentpoint.com.